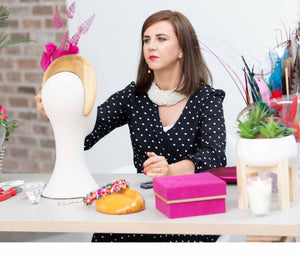 The Power Of Accessories
At Siobhán Daly Designs we strongly believe that accessories can have a transformative power, which can change your look and a mood in an instant.  
They can dramatically change a person's identity and how they're interpreted by society. From a necklace to a pair of earrings , they can influence not only the attitude of those who incorporate them, but also of those who see them.
That is why we create bespoke luxurious designs to emphasise your look and make you feel amazing- proud to wear and proud to cherish for the rest of your life. We firmly believe 'Look good, feel good', when we make a little effort it has an effect on our mood and we feel the better for it.
Designed in our studio in Meath, Ireland, each unique piece of jewellery is designed with you in mind as accessories are the finishing touch to every look.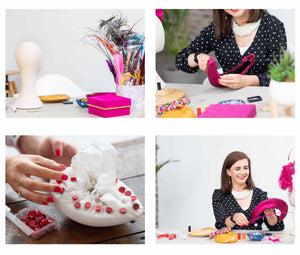 What Inspires Us
Everyday something new inspires us when creating a design, we take inspiration from colours, textures and fabrics to nature and flowers. Our inspiration may also come from things we see on our travels such as the depth of the colour of the ocean or the vibrancy of our surroundings.
Some of our pieces also have a vintage look and feel because of our love for antiques which comes from Siobhán spending time with her Grandmother.  Sometimes the fabric can also have its own 'transformative' power. The fabric can be so beautiful by itself, that it decides what it becomes and we facilitate that creation.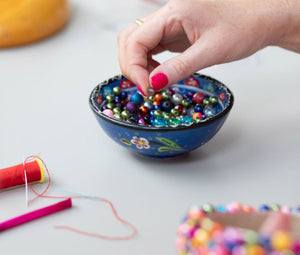 Siobhan Daly Designs
Siobhán Daly Designs was launched in 2016 by Irish milliner and accessories designer Siobhán Daly. Her journey started in 2011 when she was unable to find a beaded neck piece for an occasion, so she made her own. For years she created bespoke pieces for friends and family, and once she saw how much 'transformative' power an accessory could have, changing your look and mood instantly, she realised that she wanted to turn this passion into a job. 
Siobhan was taught to sew by her Grandmother as a child. For most of her work she is self-taught and has developed her own techniques to really ensure the designs are unique and bespoke from others. Her love of hats inspired her to complete millinery courses and create hats using a variety of materials for that distinctive look. 
Originally from Kilkenny and now based in Meath, Ireland, Siobhán and her team are extremely passionate about what they do and want to ensure that you feel amazing in the final product they have created. 
We love creating bespoke 'transformative' pieces for you to wear.